Instagram Model Sparks Outrage, Photos Of Her Cat Go Viral
One Instagram star sparked outrage when photos of her cat went viral. Animal lovers blasted the fitness model demanding she "seek help" after she claimed her goal was to make her pet feline look "as glamourous" as she is. Others believe the influencer should be prosecuted for "extreme abuse."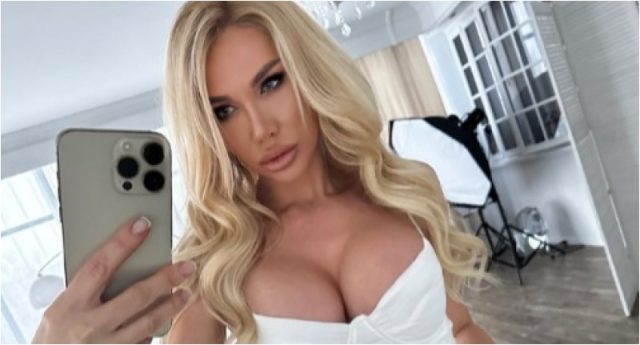 Elena Ivanickaya, an Instagram model and fitness coach, got into deep trouble after uploading photos of her cat on her online platform. The Ukrainian model's bald cat, known as a Sphnix, sparked outrage when she decided to tattoo a Winged Anubis—an Egyptian God—on the cat's chest area.
Elena posted images of the bald cat, Yasha, who was unconscious while being tied down under anesthesia while the tattoo artist worked on him. Following the release of the photographs online, outraged viewers lambasted the woman, accusing her of abusing the cat, according to New York Post.
UAnimals, Ukraine's largest animal rights organization, posted: "The cat's owner thought it fun to give her pet cat a tattoo. Unfortunately, the cat spent the worst hours of his life. It is impossible even to look at these photos!" Animal lovers on social media wasted no time blasting the fitness model.
"You just can't torture those who are weaker than you, it is not a toy, it is a living being. [Elena] did not put a tattoo on her chest," one critic wrote.

"Would be better to ink her forehead with a tattoo saying 'idiot' and break her finger for torturing a defenseless animal, poor kitty," posted another furious viewer.
According to The Sun, many other social media users expressed concern that the Instagrammer "needs help" after inflicting "extreme abuse" on her cat. Even the police were called in. "If we establish that the animal was tortured, we will open a criminal case," said Natalia Chovpylo, a police official.
Elena Ivanickaya was taken aback by the criticism and responded by noting that the spoiled cat, who has its own Instagram account and eats fresh oysters, has a better life than the individuals complaining. She also defended her decisions, claiming that the cat was not in any way harmed. "This cat's life is better than yours," she wrote. "Maybe it is hell for you, but he feels just fine. He has not been castrated and he never will be, this would be real cruelty."
"I checked with the vet before getting him a tattoo and they were fine with it and a vet was present while they were doing the tattoo, so everything was under control," she added. "The cat is treated with love and care… he is very smart and enjoys his happy life. The tattoo was made on the upper layer of skin. Only 1-2 millimeters, he did not feel any pain,"
Elena went on to say that Yasha had no negative effects. "Right after the procedure he behaved normally and started to go on with his normal routine," she said. One day later, the fitness influencer retaliated by uploading another photo of the cat getting tattooed with the message: "haters missed Yasha."
Hundreds of upset people left angry comments calling the influencer out for what they believed was "animal abuse" and branded her a "sick, sick person."
A critic wrote: "This is not ok, delete this and seek professional help. Wow, Someone come save this poor baby."

Another critic added: "I don't understand how you can do something like that to your cat when you don't even have tattoos, did you think that this would give you more followers on the spot? You're a hypocrite, you deserve to have your cat taken away from you."
Apparently, the controversial trend of tattooing animals is not new. In 2012, a Russian tattoo artist gained notoriety for inking his cat Sphnix. Another bald cat that had been tattooed by gang members was saved from a prison in Mexico. The words "Made in Mexico" are tattooed on the cat's slim, grey body. Authorities declared after saving the cat that it was not for sale and would be going to a "good home."
Despite the backlash, Elena Ivanickaya seems to have remained unrepentant. The mere fact that she continued to post pictures of the tattooed Sphynx cat and refused to take down a single one of them speaks for itself. It's understandable that most people would have a negative reaction to a cat being tattoed since it's not as normalized as other painful elective procedures, such as getting a cat declawed, having a pet spayed or neutered, or having a dog's ears clipped.